Eagle Newsletter/eNews & Calendar
Welcome to The Eagle
If it's happening in, to, or around Harrow Way then you will see it here first! HWEagle compiles all the school news including reports from the students.
We are always looking for contributions and if there is a report you want to see in the HWEagle then simply contact the School office with the details.
Harrow Way 50th Anniversary Newsletter – June 2017
---


Harrow Way Weekly Enews
Friday 15th February 2019
Friday 8th February 2019
Friday 1st February 2019
Friday 25th January 2019
Friday 18th January 2019
Friday 11th January 2019
Thursday 20th December 2018
Friday 14th December 2018
Friday 7th December 2018
Friday 30th November 2018
Friday 23rd November 2018
Friday 16th November 2018
Friday 9th November 2018
Friday 2nd November 2018
Friday 19th October 2018
Friday 12th October 2018
Friday 5th October 2018
Friday 28th September 2018
Friday 21st September 2018
Friday 14th September 2018
Friday 7th September 2018
---
Harrow Way Eagle Termly Newsletter – Current Edition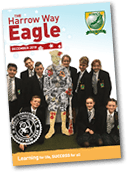 Autumn 2018
Calendar of Events – January to July 2019
Previous Editions
Summer 2018
Spring 2018
Autumn 2017
Summer 2017
Spring 2017
Winter 2016
Summer 2016
---
The Raptor
Harrow Way's newsletter for the Students by the Students.
---
Hampshire Calendars – School Holidays
2017 – 2018 Term Dates
Monday 4th September  2017 – INSET Day – No students should attend
Tuesday 5th September 2017 – 8.45 am – New Year 7 students and Year 11 Prefects only
Wednesday 6th September 2017 – 8.45 am – New Year 7 students and Year 11 Prefects only
Thursday 7th September 2017 – 8.45 am – All students