Examination Results
Click here to view official results as published by the Department for Education.
| Year | 2015/2016* |
| --- | --- |
| Progress 8 score | -0.20(*178 see below) |
| Attainment 8 score | 48.5 |
| % of pupils achieving a good pass in English and Mathematics | 63 |
| English Baccalaureate | 17 |
*(Progress 8 Score based on 171 students at Harrow Way in 2015/2016 (-0.10) which is in line with national average)
Progress 8 is a new measure of school performance. It replaces the previous measure of 5A*-C including English and maths, and shows how well pupils of all abilities have progressed, compared to pupils with similar academic starting points in other schools.
The Department for Education have published a video explaining Progress 8:
---
| Year | 2013/2014 | 2014/2015 | 2015/2016* |
| --- | --- | --- | --- |
| % achieving 5+ A*-C GCSES including English & Maths | 61% | 51% | 60% |
| % achieving the English Baccalaureate | 12% | 13% | 18% |
| % of pupils making expected progress in English | 82% | 59% | 74% |
| % of pupils making expected progress in Maths | 69% | 72% | 71% |
*2015/2016 GCSE results before appeals.
Top 50 Most Improved School in England February 2015 – Letter from David Laws MP
---
Revision and Preparation
Presentation
Here is some exam information to help support your child through his/her upcoming exams.
The presentation made at the recent parents exam briefing evening, held on the 10th March, can be viewed here.
The presentation gives information on the correct equipment needed for exams and behaviour and conduct expected in an exam.
Revision
Listed below are some useful websites to aid your child's revision:
BBC Bitesize Education BBC Bitesize provides a large set of revision aids including videos, activities and tests.
Examtime GCSE – Find everything you need to know to succeed in your GCSE Exam here. You want to get the best possible result in your GCSE exams. We are here to help! From stats, tips and tools, we have a comprehensive set of materials to help you get the best result possible. Plus with ExamTime you have access to over 1,000,000 learning resources, so you won't be stuck for inspiration.
S-Cool Revision S-cool provides lots of free revision guides, question banks and resources.
---
2016 – Harrow Way Celebrates One Of Our Best Ever GCSE Performances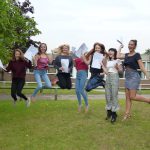 Harrow Way students are celebrating this morning with news that their 2016 GCSEs results are one of the best in the school's history. An impressive 60% of students achieved five GCSEs A*-C including Maths and English, a 10% increase on last year and the second best set of results in the school's history. An outstanding 75% of students achieved A*-C in English and 73% achieved A*-C in Maths, described as a 'remarkable achievement.' Nearly 70% of students achieved five GCSEs grade A*-C overall and 66% Achieved an A*-C in English and mathematics GCSEs combined.
A number of curriculum areas delivered flawless results with Business Studies achieving 100% A*-C; Computer Technology 100% A*-C; ECDL* 100% A*-C and Computer Science 75% A*-C. Performing and Visual Arts continue to be a real strength at Harrow Way with Art, Dance and Drama all achieving an incredible 100% pass rate. High grade passes were also impressive with 54% A/A* in Art, 46% A*/A in Dance, 35% A*/A in Drama and Music achieving 83% A*-C.
The sciences continue with their strong track record with ​100% A*-C in Physics and Biology, Chemistry was 90% and Additional Science 73% A*-C.
As staff joined students with their celebrations a delighted headteacher Michael Serridge said: "These are the fourth set of results under my headship and I am very proud that these are the second best in Harrow Way's history. Congratulations to our students who worked so hard and showed true commitment to their studies and recognition too to all the teachers and support team for their dedication and hard work. An important focus at Harrow Way has been academic excellence which is the cornerstone of outstanding teaching and learning in the classroom and we are reaping the rewards of this hard work today. We will continue to strive for every improving performance and our aspirations remain high."
High grade passes for the 2016 year group were particularly high with 50% of the cohort achieving at least one A*/A grade and 20% achieving three or more A*/A grades. Within the overall results there were a number of individual success stories with ten students celebrating eight or more A*/A grade GCSEs including Emily Baulf, Georgia Day, Keira Grimison, Holly Healy, Joshua Ingram, Jessica Lee, Ella Shadwell, Harry Smallbones, Martha Smith and Ella Taylor.
Harrow Way will be hosting an Open Evening on 27 September 2016 6.30pm to 9.00pm for prospective families wishing to learn more about the school. Open Mornings will also be held 28 and 29 September 2016, 9.15am to 10.30am.