Music
Welcome to the Music Department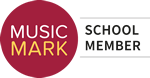 Students take part in a range of integrated activities and are encouraged to improve their performing, composing and listening skills while developing knowledge of musical styles, traditions and cultures.
Video Prospectus – Music Department

Curriculum Content
In year 7 students have one lesson of music a week, they look at different styles of music and production of music: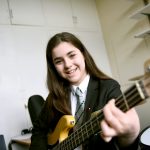 Year 7
Minimalism – Students will study composition techniques specific to minimalistic music including patterns phasing and motivic development
Graphic Score – Students will study performance and composition techniques using alternative notation and will perform and create music using symbols and pictures
Ground Bass – Students will study the use of a repeating bass pattern and introduce harmony
Programme Music – Students will perform and create music designed to create an atmosphere or emotion
Marches – Students will explore the context and conventions of march music including rhythm and pulse
Year 8
In year 8, students look at the structure of music and how it is used in other industries:
Music for Film – Students will study music for film and create a piece of music for a given section of film footage
Blues – Students will study the conventions of blues music including improvisation and syncopation.
Reggae – Students will perform reggae songs focusing on the social contexts of reggae music as well as working on chord sequences and musical arrangement.
World Drumming – Students will study samba and African drumming techniques creating a performances of music in these styles
Song Writing – Students will study popular song and will compose and record their own songs.
Key Stage 4
The Edexcel Level 2 BTEC First Certificate in Music consists of two core units, plus one mandatory unit, and three optional specialist units, that provide for a combined total of 240 guided learning hours for the completed qualification.Students will take part in a number of musical activities. They will be involved in performing and creating music from a variety of different musical stimuli.
Year 9
Students in year 9 will start on their BTEC Music course and will undertake a number of assignments designed to introduce them to the BTEC process including a:
Performance Project – Students will be asked to work on a song of their choice.
Composition Project – Students will create a piece of music to a specific brief
Recording Project – Students will be working on producing a recording, focusing on the technical aspects of studio work including set up and operation of recording equipment.
Year 10 and 11 students follow the Edexcel BTEC First Certificate in Music, during which students will undertake assignments from the following units:
Unit 1 – The Music Industry – Students will study aspects of the music industry in preparation for the written exam in Year 11
Unit 5 – Introducing Music Performance – Students will perform a variety of Songs / Music as part of their performance assessment
Unit 4 – Introducing Music Composition – Students will compose music to a number of briefs as if working as a composer.
Unit 2 – Managing a music product – Students will work as a class to create a music product e.g a CD of their work, they will need to record all the material as well as market their CD's to a target audience
Unit 8 – Music and Production Analysis