Welcome to the Science Department
Science stimulates and excites candidates' curiosity about phenomena and events in the world around them. It also satisfies this curiosity with knowledge. Because science links direct practical experience with ideas, it can engage learners at many levels. Scientific method is about developing and evaluating explanations through experimental evidence and modelling. This is to spur critical and creative thought. Through science, candidates understand how major scientific ideas contribute to chronological change – impacting on industry, business and medicine and improving quality of life. Candidates recognise the cultural significance of science and trace its world-wide development. They learn to question and discuss science-based issues that may affect their own lives, the direction of society and the future of the world.
National Curriculum Science, as laid down in Statutory Orders, is taught at Key Stage 3 and Key Stage 4 with most students being prepared for the GCSE Examination in Combined Science. A few students may be invited to undertake a Single Science course.
In Year 9 some students will be invited to take the triple science course as an option subject into Year 10. This involves 2 additional lessons per week during year 10 and 11.
Curriculum Content
Key Stage 3
Year 7
How science works unit
Biology

Cells
Body systems
Ecosystems

Chemistry

Particles
Elements, compounds and the periodic table
The Earth and resources

Physics
Year 8
Biology

Variation
Photosynthesis
Immunity

Chemistry

State changes and mixtures
Chemical reaction
Acids and alkalis

Physics

Magnets
Forces
Electricity
Year 9
Biology

Cells
Organisation
Bioenergetics
Disease

Chemistry

Atoms and the Periodic Table
Bonding
Quantitative Chemistry
Chemical and energy change

Physics

Mains electricity
Energy
Matter
Atoms and Radiation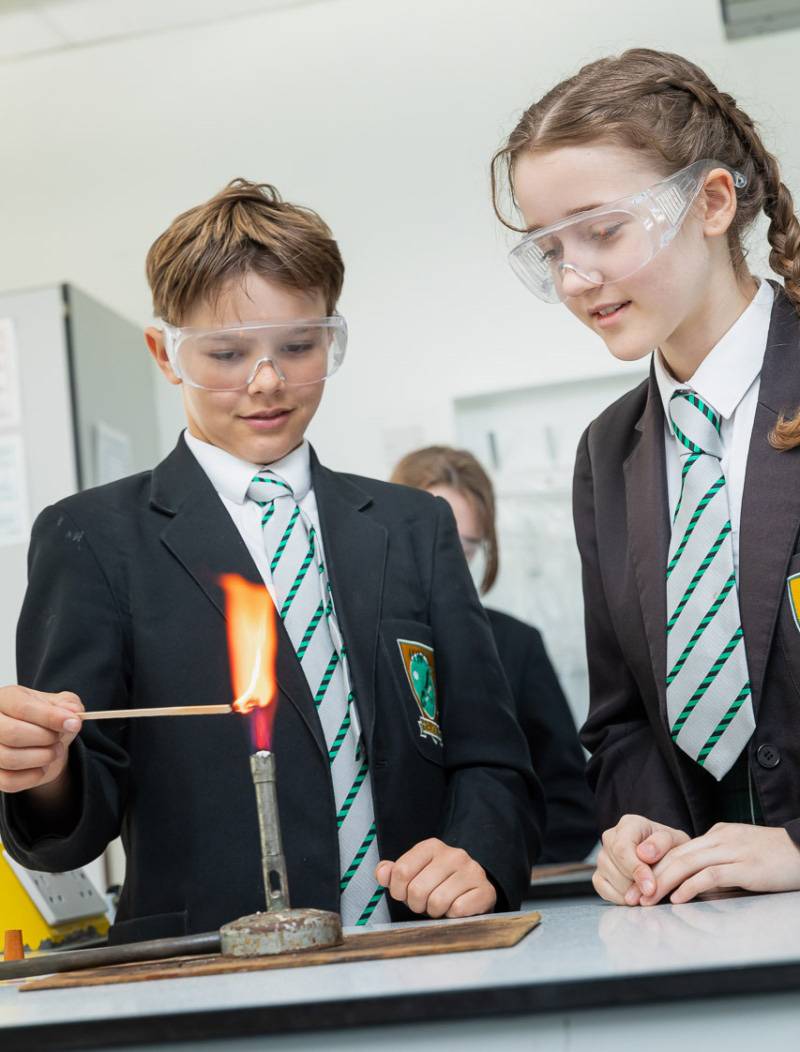 Key Stage 4
At Keystage 4, students follow the AQA GCSE Combined Science: Trilogy Specification. The GCSE will be examined terminally in Year 11. Throughout the course there will be a set number of required practicals that the students will have to complete.
GCSE Science offers students the ability to gain a good knowledge and understanding of science by studying important aspects of Biology, Chemistry and Physics. The topics studied include:
Year 10 & 11
Biology

Homeostasis and response
Inheritance and evolution
Ecology
Revision
Chemistry

Rates and chemical change
Organic chemistry
Chemical analysis
The atmosphere
Using resources
Revision
Physics

Forces
Waves
Magnetism and electromagnets
Revision