Dance
Welcome to the Dance Department
At Key Stage 3, every student has one timetabled lesson of dance per week. Students are encouraged to perform and choreograph their own dances as well explore different movements and dance cultures.
BTEC Dance was introduced in 2001 to meet the needs of the more creative students. This course gives the students the opportunity to create and perform their own dance work, as well as focusing on the aesthetic appreciation of professional dance. Frequent trips to shows are organised and regular dance workshops are run throughout the course.
Video Prospectus – Dance Department

Curriculum Content
Year 7
Students will develop their performance and choreographic skills by exploring the following topics:
War Horse
Pirates
Origami
Zombies
Graffiti tags
In Key Stage 3, students will be assessed in three key areas: performing dance, choreographing dance and evaluating dance.
Year 9
During Year 9, students will begin their BTEC study by exploring a range of dance techniques including contemporary, urban and jazz. They will also further their choreographic skills by looking into the main components required to create a dance.
Students will have the opportunity to perform to a live audience on three occasions providing valuable experience and assessment opportunities.
The Edexcel BTEC Level 1/2 Award in Performing Arts (Dance) consists of two core units, two
mandatory units plus three or more specialist units that provide for a combined total of 180 guided
learning hours for the competed qualification. The units are: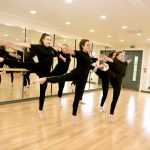 Individual Showcase (core)
Preparation, Performance and Production (core)
Dance Skills (mandatory)