Curriculum


The Curriculum at Harrow Way underpins our goal of ensuring that students experience the highest quality teaching and opportunities available to enable them to achieve ambitious progress and outcomes alongside demonstrating the highest standards of personal behaviour and individual responsibility. We are fully committed to the belief that through the curriculum we can provide students with the knowledge and skills needed to challenge social disadvantage and to support them in embracing the opportunities, responsibilities and experiences of life in Britain and beyond.
We are uncompromising and relentless in our desire to be the finest provider of education for miles around and curriculum design and timetabling is focused on creating the very best experience for students that we are able to provide.
Harrow Way Curriculum Vision
| | Our Curriculum should: | Why is this important? |
| --- | --- | --- |
| 1 | Encourage a love of learning and be delivered by staff who are passionate about the topics they teach. | Students and staff who are passionate about learning will lead to better outcomes. |
| 2 | Give all the students an opportunity to study a breadth of subjects. | Subject diversity is important to give our students a breadth of knowledge and experience. This should be inclusive and offer the same opportunity for all. |
| 3 | Within individual subjects focus on depth of learning that is relevant to our community and our students. | Less can often be more. Subjects should think carefully about what depth means in their subject and how this can be achieved choosing topics that are relevant to our cohort. |
| 4 | Prepare our students for GCSE and the wider world BUT not be driven by the demands of GCSE. | Whilst success at GCSE is important, if we use GCSE content and assessment from Year 7 this will be boring and repetitive. There is no need to do this. |
| 5 | Be underpinned by knowledge-rich learning that builds with each term and year. | Knowing more and remembering more is the key to success. Our curriculum should be knowledge-rich and staff must have the expectation that core knowledge is remembered. |
| 6 | Be ambitious in terms of content, concepts and vocabulary, building on the excellent work in KS2. | KS2 has become far more ambitious. We need to build on this and challenge our students. Our students need to have their cultural capital built through our curriculum to allow them to succeed. |
| 7 | Be mapped out explicitly so that knowledge is transparent for staff, students and parents. | Our curriculum should be fully mapped out so that staff can build knowledge, students know where they are headed and parents can support us. |
| 8 | Allow for key concepts, themes or areas of knowledge to be revisited but not repeated. | Revisiting key areas is crucial to allow students to build their learning. However, this should not be a case of repeating the same content as this is not challenging our students. |
| 9 | Allow for natural links across subjects to be made. | Subjects can support each other with learning, for example, the geography team can be supported by knowledge in science. These links need to be natural and not forced for their success. |
| 10 | Be flexible and staff need to understand that it will never be finished. | Our curriculum needs to be flexible so that it can be responsive to events. Additionally, the curriculum should be constantly evaluated and tweaked to lead to better outcomes for our students. |
Delivering the National Curriculum for All
The foundation of the education provided by Harrow Way is the National Curriculum. For some subjects this is delivered through dedicated timetabled lessons across 2 years during Key Stage 3 but for curriculum areas with more detailed briefs and expectations this commitment continues throughout year 9. Although the prescribed content for History and Geography are covered by our commitment to two lessons a week for each subject throughout year 7 and 8, all students continue with History and Geography study into year 9 allowing teachers to explore the important moral, cultural and spiritual themes that these subjects provide in even more detail (and building on our previous requirement that students continued to study at least one of these subjects throughout their time at Harrow Way). The majority of students continue with a Modern Foreign Language Subject into year 9 and core subjects continue to build on the knowledge of skills for these subjects rather than focusing explicitly on the texts and styles of questions examined at Key Stage 4. Other lessons deliver a programme of carefully planned religious education, careers, personal development and relationship and sex education. All year groups receive a double lesson dedicated to non-academic Physical Education. We are ambitious for all of students and ensure that the whole school curriculum and that of each subject is sequenced so that the new knowledge and skills of each unit or topic build on what has been taught before to support the progress of all.
Pathways and Guidance
We are particularly proud of our Year 8 Pathways programme that then feeds and guides our Options programme in Year 9. A series of Pathways are offered to year 8 students for study in year 9 that prepare them for the rigours of Key Stage 4 study and also allow them to experience subjects that they have not yet encountered as part of the National Curriculum or to explore those they have engaged with in more detail. Careful guidance is provided to families and supported by information evenings and individual appointments with senior staff to discuss the right pathways for each student. In year 9, and again supported by guidance, information evenings and individual appointments, families will then choose from the suite of subjects that they have studied in year 9 which are best for them to continue with into year 10. For some this will rightly focus on a core of Ebacc Subjects but the route for every student is carefully discussed and considered. All students continue with the study of at least one Ebacc subject in addition to the core subjects of English, Mathematics and Science. We also have ambitious plans for encouraging a growth in the number of students continuing to study a Modern Foreign Language. We believe that the ongoing process of guidance and consultation offered by our Pathways programme does not restrict access to the National Curriculum or breadth of opportunity in the way that a simple year 8 option process might but rather increases the opportunities available and empowers students, encouraging them to take more responsibility for their learning.
A Commitment to the Core
As the backbone of the education of all students and based on research on how long term memory is secured, we aim to fully support the core departments of English, Mathematics and Science with a carefully structured timetable that supports, where possible, one lesson a day for these subjects at Key Stage 4. We benchmark curriculum time against that offered in other schools and prioritise the staffing and timing of core lessons as part of our drive to deliver the very best learning and outcomes that we can for our students.
A Commitment to the Arts
Harrow Way Community School is fully committed to providing the often life changing opportunities that success in the arts can bring for our students. Throughout times of austerity and challenge the arts will often remain a growth industry in Britain and, alongside our commitment to encourage ambitious take up of Ebacc subjects we believe that this must never be at the expense of the support and study of the arts. Following dedicated, timetabled national curriculum lessons for such subjects through years 7 and 8 we offer a broad selection of pathways and then options that include media, visual and performing arts subjects. Extra curricula enrichment includes many arts focused activities including many opportunities to perform, create and present work for all year groups.
The Right Pathway for the Right Student
Our curriculum is not 'off the shelf' or 'set in stone' but is revisited regularly to ensure that it is fit for purpose, suits our ambition and that is meets the differing requirements of different year group profiles and the changing environment of education. This reflection and discussion runs throughout the system all the way to always trying to meet the differing needs of individual students where possible. The opportunities offered by different technical qualifications and vocational opportunities are always explored to see if they might suit the needs of individual or groups of students better than the options and core offer at Harrow Way. This might include such opportunities as working with other local education providers, approved outside agencies or qualifications.
Year 7
The National Curriculum is delivered through dedicated, timetabled lessons for all subjects plus additional lessons for Dance, Physical Education, Religious Education, Careers and Personal Development.
Year 8
The National Curriculum is delivered through dedicated, timetabled lessons for all subjects plus additional lessons for Physical Education, Religious Education, Careers and Personal Development.
Following a process of consultation and guidance, students decide from a selection of Pathways subjects that they will study in Year 9.
Year 9
Students study additional lessons of English, Mathematics and Science. All students continue with History and Geography alongside Pathways chosen in yr8 and Physical Education, Religious Education, Careers and Personal Development lessons. Following a further process of consultation and guidance, students decide from a selection of Options subjects that they will study in Year 10.
Years 10 and 11
We aim to provide all students with at least one English and Mathematics lesson every day. As well as Science, all students continue with either History or Geography. Options subjects receive 3 lessons a week. Dedicated Physical Education, Religious Education, Careers and Personal Development lessons continue.
Through the curriculum, teaching and assessment at Harrow Way, all students, especially those in at-risk sub-groups, will:
Make significant academic progress over their 5 years at Harrow Way.
Develop and retain the knowledge and cultural capital (including relevant tier two and tier three vocabulary) that will enrich their experience and empower them to access, the next stage of their education, find suitable employment and participate in a democratic society.
Value learning for its own sake and develop a range of skills, aptitudes and personal qualities to take into life. These will include employability & non-cognitive skills (such as resilience, working with others, acceptance of feedback and kindness), metacognitive skills (such as planning, monitoring and evaluation) and study skills (such as retrieval practice and spaced practice)
Curriculum, teaching and assessment are inextricably linked. When all three are aligned and of the highest quality, they should facilitate effective learning for all students, irrespective of their starting points. In turn, this should translate into all students making good progress and achieving strong academic outcomes. This matters, because it gives them the best possible life chances.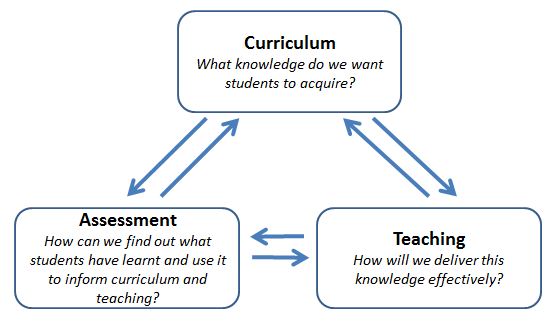 Curriculum – WHAT is taught
The curriculum outlines the key knowledge that students need to learn over their time with us in order to be successful; this will then drive what and how we teach. A challenging curriculum will require students to think deeply about subject and lesson content. In other words, the level of challenge in the curriculum sets the level of challenge in our classrooms.
Teaching – HOW curriculum content is taught
Next, we need to consider how to enable effective learning. When we talk about learning, we mean the retention and recall of knowledge so that it can be applied in different contexts. It should be durable and flexible. For this to happen, a deep understanding of the 'active ingredients' of teaching based on the best available research evidence is required.
Assessment – Desired high-level outcomes and measures of those outcomes
Assessment can be seen as the bridge between teaching and learning. Another aspect of assessment that should be considered is the balance between formative and summative assessment and the importance of a two layered approach to assessment:
Layer 1: Formative – on-going, ungraded and focused on smaller chunks of the curriculum.
Layer 2: Summative – At set points in the year. Knowledge included will build cumulatively through the year.