The Harrow Way Eagle Newsletter – Spring 2018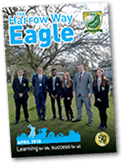 Our latest Newsletter, including the 'Head's Corner' and a summary of all the news and events that's happened at Harrow Way over the last term, can be viewed here.
A reminder that school breaks up for the Easter Holidays at 3.00pm on Thursday 29th March 2018. Summer Term commences on Monday 16th April 2018, 8.45am.