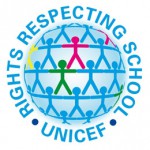 Harrow Way Community School received confirmation on 25th June 2010 that it had been awarded the Unicef Rights Respecting School Level 1 accreditation. This award recognises that Harrow Way places the rights and responsibilities of the child at the very heart of the school ethos.
Harrow Way is a school that has always prided itself on the rights, respect and responsibilities of all members of the school community and this award allows for building and expanding previous good practice.
Headteacher Charlie Currie said: "This award is very important to the school on a number of levels. Firstly, students, teachers and the wider community should all understand the importance and value of rights. Secondly, is the understanding that with those rights comes responsibility and I am delighted to say that this message has been well received amongst the students here at Harrow Way."
The first stage of the process towards accreditation was to appoint 20 year 10 Unicef Peer Educators. Trained by Unicef on the rights of the child, they in turn trained staff and students in the school. To reinforce the message of why we have these rights, students have met on a number of occasions Holocaust survivors who have given very moving accounts of life stripped of all rights.
Year 11 students led the process towards accreditation and although these students have recently left Harrow Way, the current Year 11s have continued to drive this through the school. A number of initiatives led by the Unicef Peer Educators include assemblies based around children's rights and responsibilities; visitors such as childline and youth speakers; fundraising events for Haiti; Human Rights Day; and work with Fairtrade.
At the heart of the accreditation process is how the students themselves feel about the school and as one student said: "We have loads of opportunities and new ideas at Harrow Way. This Rights Respecting School Award just joins it all up, and helps us make sense of it'.
A unique school mural, based around the rights of the child, is currently being produced. The chosen design follows an entire school competition in which students voted for the winner.