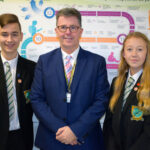 Harrow Way Community School has had a second student, Charley Kinghorn, elected to represent the 22,000 young people within North West Hampshire following the recent Hampshire Youth Parliament (HYP) elections. All secondary schools and colleges in the county took part in the election, which ran from 6-31 January. Over 4,739 votes were cast across all districts as 14 young candidates stood for the seven contested seats with Charley elected as the Support Member of the Youth Parliament (SMYP).
In her role of SMYP Charley will work alongside the Member of Youth Parliament (MYP) to bring about local change within the community and lobby decision makers, local councillors and politicians to ensure young people are at the heart of every conversation. She now joins the current MYP, Dmitrijs Meiksans, another Harrow Way student, who has been in office for one year and will continue to serve as a MYP until February 2021.
Charley is described as a conscientious and determined 13-year-old. Her ongoing efforts to improve the school's environmental impact reflect her deep concerns regarding environmental issues. She has also shown herself to be an active member across the wider school community by joining the Debate Club and representing Harrow Way at the local Youth Speaks debate, hosted by the Rotary Club.
Outlining her focus as a SMYP, she said, "I would bring enthusiasm, commitment and a strong passion to the role. Taking any opportunity to have an input in decisions that ensure the youth in our area have the required services, facilities and support available to them, working toward a better quality of life for now and in the future."
Headteacher Michael Serridge said: " Congratulations to Charley. We are proud to see so many Harrow Way students engaging with the Hampshire Youth Parliament and voting. We look forward to working with both members for Youth Parliament at our school and ensuring that students' voices and views are heard."