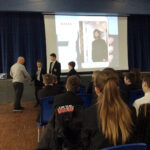 Harrow Way Year 8 students spent the day working with former police officer Dean Coady, OBE about the dangers of knife and street crime. Dean, from Urban Pure Solutions, specialises in delivering innovative, interactive workshops designed to engage and educate young people on street dangers.
Commenting on the session, which proved an eye opener for the young students, Head of Year 8 Victoria Ford said: "With the rise in street crimes across the country, we wanted to ensure that our students are as aware as they can be regarding the dangers of knife and street crime. Dean's session was incredibly engaging and hopefully students are now much more informed on how to keep themselves safe."

During his sessions with the Harrow Way students Dean discussed the dangers of being involved with knife crime and county lines, a term increasingly used in the media to describe the criminal exploitation and trafficking of children and vulnerable people within the UK. Through a series of discussions, interactions and role play he effectively delivered his powerful message with student George commenting: "I thought it was really good because he helped us to understand why we shouldn't use knives and how serious it can be. He made it entertaining for us, so even though it was serious, it made us listen." Another student Mitchell said: "It was important because it taught us about the consequences and the things that can happen."
Having started his career in the Parachute Regiment Dean went on to spend 14 years in the police force. On retirement from the force he was one of the highest decorated officers in the UK. As the lead trainer for Urban Pure Solutions Dean researches and designed a series of unique interactive training packages for young people, safe guarders, parents and carers.