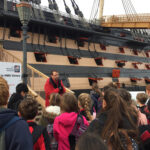 Harrow Way Year 7 students were transported back to the 18th century during a recent trip to Portsmouth's Historic Dockyard. The visit, as part of a cross-curricular exercise across the school, gave students an insight into the harsh reality of life on the high seas as they explored HMS Victory, famous for its role as Lord Nelson's flagship at the Battle of Trafalgar.
Explaining how the cross-curricular approach deepens student learning English teacher Miss Kilby said: "We find that a multi-subject approach is very effective in giving students a deeper understanding and breadth of knowledge. It challenges them to explore a particular topic from a number of considerations. So while this trip to the Dockyard was with reference to studying the classic Treasure Island, they will also be exploring the topic in Maths, Dance, Geography and History. As an English teacher I was keen to challenge the students to realise the mental and physical hardships of living at sea and to see this new perception reflected in their work."
At the Dockyard students enjoyed a guided tour of HMS Victory and a self-led tour of The Royal Navy Museum which features a dedicated museum to Horatio Nelson. While down in Portsmouth students also visited Action Stations for some high-tech, military simulator activities and timed climbing challenges which gave them a sense of climbing up and down sail rigging every day.
Now back at Harrow Way, Miss Kilby explains how students will be applying their naval experience to their English studies: "I'm hoping to see creative writing which really captures the feel of being on board an old ship like HMS Victory. There were many surprises and revelations such as what was in a sailor's diet. I'm looking forward to reading their description of eating two year old biscuits, riddled with weevils!"