National Careers Week, 4th – 8th March 2019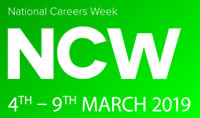 National Careers Week (4th – 8th March) has been a whirlwind of activity at Harrow Way; we have welcomed in over twenty five different professionals who have delivered forty sessions to students from Year 7 all the way up to Year 11.
We have had an impressive range of guest speakers: a scriptwriter, barrister, psychologist, occupational therapist, cyber security specialist, engineer, dentistry careers and many more. We have had hands on Martial Arts sessions, a practical session from a make-up artist who works in the West End and a visit from the Fire Service. The feedback from both students and guest speakers has been overwhelmingly positive.
Students have said:
Scriptwriting: "It was interesting to hear about the word behind the screens. He (the scriptwriter) was humble and gave examples about how he got into the industry"
Dentistry: "I didn't realise how many different careers there were in dentistry!"
Martial Arts: "It was really fun and made me feel confident!"
Physiotherapist: "It was interesting to hear what they do, and how they do it"
Meanwhile, employers have been just enthusiastic:
"I was initially worried, but they were brilliant, enthusiastic"
"I enjoyed it enough to come in again on Friday, in my own time. So I think it's safe to say I had a good time."
"The students were very engaging throughout the whole session, asking lots of questions about both apprenticeships and the council. It was lovely to see young students getting involved and starting to think about their possible future careers."
"I love teaching and interacting with kids and this was a good day."​