Harrow Way's Dmitrijs Meiksans Elected to UK Youth Parliament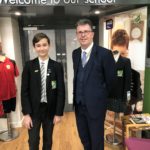 Harrow Way's Dmitrijs Meiksans has been successful in his bid to win a seat in the UK Youth Parliament. The Year 8 student stood for election and following a successful campaign with over 1000 votes cast by young people for the contested seat, is now the elected MYP (Member of the Youth Parliament) for North West Hampshire.
Six seats were up for election throughout Hampshire with all secondary school and colleges invited to take part. During the month-long voting process 4367 votes were cast in total across all the districts.
Dmitrijs is passionate in his aim to empower young people, particularly with regard to helping those experiencing mental health conditions. Commenting on what will be his focus as a MYP he said: "With 20% of adolescents experiencing mental health problems each year, we really need to start working on this issue. No child should face this alone, so we must concentrate on this, and we must do it from today. As a young person myself, I believe that young people should be in the best possible condition, both physically and mentally and we can start helping with this in schools and in lessons, such as PSHE (Personal, Social, Health and Economic Education. Mental health is a common issue and as a society we have the responsibility to understand that this is an issue."
Dmitrijs has already demonstrated his commitment to the interests of young people having written and published a book last year. The short story called Lonely addresses the issue of bullying, encouraging anyone being bullied to speak up."
Commenting on Dmitrijs, Harrow Way Headteacher Michael Serridge said: "We are very proud of Dmitrijs and his genuine concern and determination to make things better for young people. As well as being voted on to the Youth Parliament and writing a novel he has served on the Student Council, is a school sports leader and organised Harrow Way's representation in the annual BBC School Report."