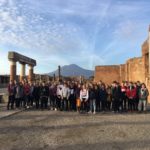 Italy's beautiful Bay of Naples provided the perfect backdrop for a Harrow Way school Geography trip. Students from Years 10-11 experienced first-hand the geographical impact on land and people as they enjoyed four days in the bay, famous for its rugged coastline, archaeological riches, the mighty Vesuvius volcano and the lost city of Pompeii.
Rebecca Calder, Curriculum Leader, Geography/Humanities said: "This area of Italy is rich in wonderful examples of Geography in action! This was an invaluable experience for students to see geographical processes, landforms and how people of the region prepare for natural hazards. We are also always very keen at Harrow Way to provide students with opportunities which enable them to try something new, to enjoy foreign travel, appreciate a foreign country's heritage, sights and culture. I'm very proud that they represented Harrow Way fantastically."
Students and teachers packed much into their trip to the bay seeing the impact of the Mount Vesuvius volcanic eruption on the city of Pompeii which students described hard hitting and surreal, likening the experience to a time machine. Seeing first-hand the evidence of the eruption on people was very powerful and provided students with the understanding of being properly prepared for hazards.
A drive along the stunning UNESCO Amalfi coastline led to a hike through the Valle delle Ferriere Nature Reserve and along the River Canneto; complete with its own unique ecosystem and prehistoric plants. With a hydrofoil trip across to the Island of Capri, students hiked along the coastline to see the impact of coastal processes on the landscape which included an exciting number of geographical landforms from natural sea arches, stacks, stumps, bays and headlands and volcanoes in the distance.
Commenting on the experience which has been hailed as a huge success Ms Calder concludes: "There's something about the Italian culture which we all really enjoyed and how better to see and learn about this important aspect of Geography than on the beautiful Amalfi coastline – I will be expecting top marks in the next coastal landscapes test paper!"