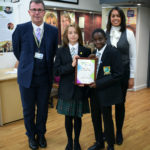 Harrow Way Community School's commitment to the highest standards in teaching and learning has been recognised by the Teacher Development Trust Network (TDNT). Receiving high praise from the auditors the school was awarded their prestigious Silver Award.
Commenting on their visit to the school where auditors interviewed teaching and support staff they said: "Thank you for a very engaging and enjoyable visit to Harrow Way Community School. I was heartened to see a strong commitment to professional learning supported by senior leaders who are proactive in modelling CPD and understand that professional development is on-going for teachers of all experiences. It was a pleasure to talk to staff about their own professional learning."
The auditors went on to highlight Harrow Way's many strengths including the strong and supportive culture at the school where all staff understand the importance of quality CPD (continuing professional development) and how this positively impacts on students. The report also acknowledged the clear leadership of CPD at Harrow Way with the Senior Leadership Team's vision and rationale of CPD articulated well to staff, who all know who to approach with any professional development queries.
Headteacher Michael Serridge commented on the importance of continually improving the standards at the school said: "Striving for the highest quality in teaching and learning is the bedrock at Harrow Way and we are always looking to develop and grow our teachers to continually drive up standards. Our goal is to be an 'Outstanding' school and having the very best teachers is the cornerstone of this ambition and the way we will achieve this is by investing in their professional development."
Before gaining the Silver Award Harrow Way were put through a rigorous audit. Teaching and support staff were assessed on their continuous professional development and the Senior Leadership Team was audited with regard to where the school currently stood and what could be done to improve. TDTN also visited the school, talking to a wide range of staff in order to make a final judgement on the quality of Harrow Way's professional development.
Michael Serridge continues: "In December 2016 TDNT presented us with their Bronze Award which we were very proud to receive. We said then that it would be Silver next, followed by Gold. So although we are celebrating this fantastic achievement we very much have the Gold in our sights and will be working towards this for when we are next audited!"
TDTN is an organisation founded by teachers, dedicated to improving the educational outcomes of children by ensuring they experience the most effective learning.