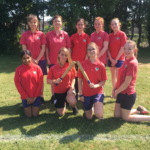 The Year 10 team played two games this week and very victorious in both. On Tuesday the girls beat Rookwood in a closely fought game, 12 1/2 rounders to 11. Batter of the game went to India Jones, Fielder of the game was bowler Grace Farrelly.
On Wednesday they played Winton, winning 25 1/2 rounders to 13 1/2. Players of the match were Amelia Kalwajtys and India Jones.
The Year 7's beat The Clere with a score of 13 1/2 rounders to 6 1/2. Batter of the match was Faith Holman, Fielder of the match, Kiera Inman.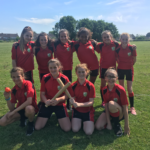 Teams:
Year 7 – Kiera Inman, Faith Homan, Immie Wilson, Maddie Parkes, Georgia Dickenson, Poppy Bond, Kiah Leigh Hutchinson, Emily Phillips Strudwick, Losana Masirewa, Magan Richmond.
Year 10 – Grace Farrelly, Amelia Kalwajtys, Amber Cherrington, Joanne Mathew, Lucy Ladd, India Jones, Izzy White, Shannon Durrans, Izzy Kirby.