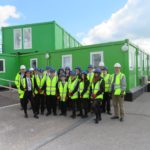 Year 9 and 10 Harrow Way students aspiring to a possible career in engineering and construction were given behind the scenes access to the Army's £1.1bn Aspire Defence Project during a recent trip to Larkhill. Seeing first-hand the infrastructure programme, due for completion in 2020, gave the students an insight into the careers which will develiver the building of approximately 2,600 new single bed spaces for soldiers, 130 new buildings and 200 demolitions.
Kevin Peebles, Associate Senior Leader said: "The construction sector is hugely important to the economy and the career opportunities are incredibly varied. We wanted the students to see for themselves the numerous skill-sets required on such a huge project which will deliver living and working accommodation for 4000 soldiers. Not only did they get to see the potential for individual careers, they also got to meet the Chief Executive Allan Thompson and Project Director Richard Tindall – two very successful and inspiring people leading the way locally in the construction industry."
Richard Tindal took time out to give students a guided tour of the project visiting an array of construction sites at the Larkhill Garrison. They saw the main project office, home to all the plans and drawings for the complex site, a visit to Purvis Lines build included a question and answer session with contractors and engineers and an opportunity to explore the new unoccupied state of the art quarters and bedrooms under construction and witness engineers preparing residential quarters in action.
Mr Peebles concludes: "This is the first time that the students had ever experienced a construction project of this scale. The numbers involved are incredibly significant – 250,000m² of new building space, 5,000,000 bricks, 9.7km of mains water pipe and 32km of street lighting cable. It is not your average building site and as such the opportunities are considerable!"