County Cross Country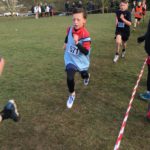 We took 6 qualifiers from Years 7 and 8 to the County Cross Country Championships in Basingstoke on Tuesday 6th March. A new experience for many of them, the students were competing against up to 120 other runners in each race.
Amelia Owen was the highlight of the day, finishing 79th overall, and also the first Andover runner back. Charlie Holloway finished an impressive 65th in the U14 boys race, with Bertie Jones coming in 70th. Hannah Salter was close behind Amelia in the U14 girls event, finishing 87th. Congratulations also to Eva Graham and Taylor Carnegie in the Under 13 races.