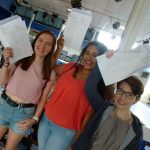 The government's changes to GCSE grading this year hasn't held back Harrow Way students who this morning celebrated another set of outstanding results. An impressive 80% achieved the new style grade 9 to 4 (equivalent to the current A* C) in English and 70% in Maths. A very pleasing 64% of the cohort achieved a grade 9-4 in both English (Language or Literature) and Maths and 71% achieved the much coveted 5+A*-C grade GCSEs overall.
Headteacher Michael Serridge explains the significance of the new Maths and English grading: "This is the first year we've seen grades 9-1 for Maths and English alongside a challenging new curriculum for these subjects with assessment based exclusively on these exams. The government introduced the 9-1 scale to increase the number of higher grade opportunities and we are delighted to see so many of our students hit the top spot this year".
A number of curriculum areas delivered flawless performances achieving 100% including Art, Business Studies, ICT, Biology, Chemistry, Physics, Drama and Dance. Science also delivered another strong performance with 71% celebrating an A*-C.
As staff joined students to share in their success a very proud headteacher Michael Serridge said: "Every year Harrow Way steps up to a new level with the GCSE results – the school, students and teachers just get stronger and stronger. My congratulations must firstly go to this cohort and to their families for their hard work and commitment to their studies. It has been a challenging year with changes to the curriculum but as ever the excellent teaching team remained focused on academic excellence, delivering outstanding lessons and engaging students in their learning, the outcome of which is today's fantastic results".
Alongside the excellent overall pass rate the school's focus on outstanding teaching and learning is paying dividends too. Michael Serridge continues: "An increase in high grade passes sees 75% of the year group, which is an incredible improvement, achieve at least one 9/8/7/A*/A pass and 23% achieve three or more. An equally impressive 21% of all our entries were A*/A".
There were some stand-out performances with a number of students celebrating a huge haul of A* and A grades including Noah Lynam (11 x A*/A), Lucy Ward (10 x A*/A), Liam Knight and Tia Fisher (9 x A*/A), Gemma Ruddlestone, Samuel Marshall, Mia Larkin and Emma Hunter (8 x A*/A) and Katie Scratchley, Caleb Percival, Ethan Hawes, Millie Fulford and Rebekah Barnes who all scooped 7 A*/As.
Harrow Way will be hosting an Open Evening on Tuesday 26 September 2017 from 6.30pm for prospective families wishing to learn more about the school. Open Mornings will also be held on Wednesday 27 September and Thursday 28 September 2017, 2016, 9.15am to 10.30am.

Student Quotes
Millie Fulford:
I really wasn't expecting to get a grade 9 in English and Maths. I couldn't believe it. I'm in shock! Amazing. Thank you to my teachers.
Noah Lynham:
Couldn't have done it without the help of the amazing teachers – it's their result as much as mine.
Ethan Hawes:
I'm ecstatic with my results – I can now pursue my career in Dentistry.