Presentation Evening – Years 7, 9 & 10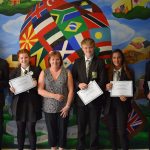 On Monday 17th July, we held our Presentation Evening for students in Years 7, 9 & 10, to celebrate their successes over the past year. Awards were presented for Effort & Attitude and Progress in each subject area, by the Headteacher and Chair of Governors, Mr L Cherrington.
Further awards for Contribution to the year group and Personal Achievement, were awarded to students chosen by their Head of Year. Certificates for sporting achievements were also awarded. Pictures can viewed here.