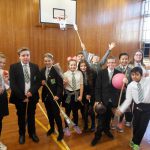 Harrow Way students took inspiration from J.K Rowling's Harry Potter for a week focusing on their 'literacy DNA strands,' championing the importance of reading, writing and communication. Throughout the week students enjoyed a variety of activities from a trip to the Warner Brother Studio, other themed lessons and trips, concluding with the school transforming itself into 'Harrowwarts School of Wizardry' for their annual Harry Potter Day.
Graeme Fluellen, Assistant Headteacher at Harrow Way (and Head of Harrowwarts one day a year) explained the importance of the week: "Enrichment days, both in school and out of school, are always thought about very carefully. Although we want experiences to be fun there is always a purpose to the opportunities we provide. Exploring the ways we communicate and use language is incredibly important and we are continuously looking for different ways to bring literacy and other learning to life for our students."
Harrow Way started their week of enrichment activities with a trip for Year 7 to the popular Warner Brother Studio, enjoying a behind the scenes tour discovering the process of developing the franchise from draft to book to film. Another important activity with the majority of final examinations now focusing on longer written answers is the importance of good literacy which has never been greater. Students from all year groups explored in lessons the secrets of the perfect paragraph and what good and outstanding extended writing looks like in each subject.
For the grand finale Harrow Way transformed into 'Harrowwarts School of Wizardry' for the annual Harry Potter Day and a series of lessons emphasising the importance of reading, writing and communication across several subjects. Experiments to create sweets and potions were performed and written up in Science while the Latin roots of our language (and Hogwarts spells) were explored in the library.
Head of Harrowwarts for the day Graeme Fluellen continues: "Students experienced divination (a form of fortune telling) in French, the history of Witchcraft and looked at the first scene of Rowling's popular stage play amongst the varied and exciting lessons across the school. We even followed the example of several universities had hosted our first games of Quidditch, complete with broomsticks and carefully written match reports! It was a brilliant conclusion to a very magical week".