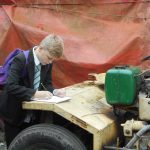 When tasked with creating 3D artwork which fuses animals with mechanical components, where better to conduct some serious engineering research than local company Marder Traction Engines. Harrow Way Community School Year 9 Art students visited the local farm which has seen the renovation of many traction engines and steam rollers over the years.
Using American artist Matt Sesow as inspiration the students were tasked with taking photographs and making drawings of mechanical components for their 'Mechanimal' project. 'Mechanimals' is the fusing of animals and mechanical components together which the students go on to create in a range of media.
The Harrow Way students have been exploring the work of Sesow who having lost his arm at the age of eight, went on to university to get a degree in computer science before becoming a self-taught artist. His work is primitive, inspired partly by the New York graffiti artist Jean-Michel Basquiat, full of bright primary colours and abstract humans and animals with a mechanical quality to them, with limbs appearing to be pinned on. Some say the garish colours he uses reflect the pain he must have gone through.
Chrissy Collins, Curriculum Leader for Art explains why she wanted the students to use Matt as their inspiration: "The style of Sesow's paintings are ideal for this student project, it's as if he too has worked to a 'mechanimal' brief! Being able to visit Marder Traction Engines, which is a treasure trove of engineering components, gave the students lots of ideas to work with. The art produced so far is clearly very influenced by the style of Sesow's work which is very distinctive. We would not have had the same success if we'd stayed in the art rooms at school. I am delighted with the result."