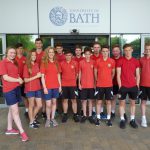 Harrow Way Community School GCSE PE students were put through their paces at Bath University recently where some of the country's top athletes train and study. The 15 Year 10 students visited the £30 million Sports Training Village which is renowned as a world-leading environment for the delivery of sport, sport services and health and fitness qualifications.
Hosted by Jonathan Robinson, an applied Sport Scientist at Bath University the Harrow Way students were given a tour of the University campus, Sports Science department and sporting facilities and heard a lecturer from Jonathan on nutrition and the impact on performance.
The Sports Training Village at the University is equipped with the very latest technology and students saw and participated in a number of the cutting edge fitness tests used to inform on athletes' progress and determine future training including testing speed, agility, flexibility, cardio vascular endurance and strength. Two lucky students, Bradley Grieg and Oliver Straffon had the opportunity to try two lab tests; a VO2 Max test, measuring blood lactate and oxygen consumption, and the Wingate test; a maximal power test completed on a cycle.
PE Teacher at Harrow Way, Karen Winnett said: "Taking these GCSE students to an inspiring environment such as Bath University helps to demonstrate the practicalities of this subject in a world-class training setting. This field trip shows how many opportunities await them as gifted sports men and women or as professionals looking to ultimately work in this field. They were fascinated by the science and technology that sits behind top-end sport and I hope this trip has inspired them to consider studying the subject at the next level."