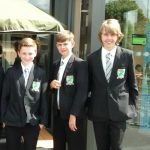 Harrow Way Graphic Products students are working with McDonalds, one of the world's largest fast food chains, on a fast food design project. The 30 Year 9 students recently visited the local restaurant for research and inspiration and an opportunity to quiz the manager on all aspects of food packaging, menu design and interior design.
As part of their Graphic Product studies the students are required to design product packaging, menu and menu holder and the interior for a new fast food restaurant. The project specifically calls on the students to incorporate SMART material into the packaging design. These SMART materials have properties that react to changes in their environment, such as temperature (thermochromic plastic which changes colour if food is too hot).
MacDonalds kindly provided the Design students with plenty of unused food packaging which was taken back to school for disassembly and analysis and a means to inspire the students with their own concepts and ideas.
Commenting on the trip Emma Law (Teacher of Design and Technology) said: "Visiting McDonald's, speaking to the manager and seeing the role product design plays in the successful operation of a world-leading organisation was an incredible insight for these students. This project is a great opportunity to apply their skills and know-how to a real-life situation and they are all duly inspired and excited by the prospect. I look forward to seeing their ideas!"
The aim of the GCSE Graphic Products course is to inspire budding architects, graphic product designers or interior designers. The course looks at the use of graphic design and its applications and teaches you creativity and innovation embracing new and emerging technologies; form function and fitness for purpose with continuous critical analysis; a designer and developers role during the design process; and a variety of practical skills including the use of computer aided design (using a variety of desktop publishers) and manufacturing processes (both 3D and laser cutting).
Career opportunities include: Graphic and Product Design, Interior Design, Exhibition and Display Design, Architecture, Advertising, Marketing, Media and Communication, Garden Design, Computer Aided Design, Packaging Design and even opens doors to become a teacher.