On Friday 20th November a group of four students took on the role of the Hampshire police and crime commissioner, as part of a Takeover Day and four students visited Andover Police Station.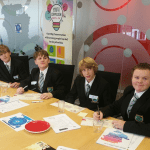 Takeover Day is a national project that encourages businesses and organisations to open up their doors and put children and young people into decision-making positions. The project gives the young people involved the opportunity to share their views and gain an insight into the adult world. The organisations taking part benefit from a fresh perspective on their work.
Students got experience the life of the Police Crime Commissioner, Simon Hayes, completing tasks throughout the day. These included decision making on police funding, dealing with the media in mock interviews and community action project planning, which their task was to create something which they could then action back at Harrow Way. Our students created a project on stopping vandalism on the school site.
During the day, the four year 9 students, Jason Burkwood, Dan Gregory, Harry Hersom and Joesph Smith got to ask the Police Crime Commissioner questions at a police and crime panel to find out more about their jobs and justifications on decisions they've made.
Student Joe Smith summed up the day: "As a young person, I have learnt the roll of the Police Commissioner, how they deal with financial cuts and how they also deal with the public. I found gaining the knowledge of the police commissioner very interesting, as well as finding out how he became the commissioner."