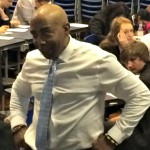 Former pro American footballer Jim Roberson is back at Harrow Way Community School, once again working his motivational magic with Year 11 students. Jim bases his captivating training on getting students to understand the 'power of education.' In his own unique style Jim connects with students, engaging them to consider how their education is the key to achieving their very best at school which ultimately leads to a future they have the choice to determine.
Head Boy Jonathan Ireland enjoyed the inspirational session commenting: "Jim shared his thoughts on how we can get the most out of our time at school in order to maximise our potential. Throughout his workshop he told various stories all with the key message of making the most from educational opportunities and how teachers were a vital asset and fundamental to us achieving success.
"In addition Jim gave practical suggestions to help us prepare for our upcoming examinations. His visit has left us all feeling more prepared and inspired to seize opportunities and make the most of the challenges ahead."
Jim starting working with Harrow Way in 2012 deploying his 'state of mind' technique. He gets students to imagine their future – what they'd like to do, how much money they might like to have and the choices they would like to make. He encourages students to adopt a positive mind set and use some practical strategies for getting the best out of themselves, all of which are illustrated by Jim in a highly animated and entertaining way. He is keen to demonstrate to the students why school matters and how, with an education, they can create their own future.
Jim explains further: "Education is number one in unlocking the world of opportunities. Education accesses everything."
Jim's work at Harrow Way benefits all the students and further complements the school's wider support programme which is designed to help everyone achieve their very best.