Roman Way Rock-it at Harrow Way!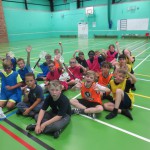 Roman Way's Year 4 class enjoyed a great afternoon at Harrow Way recently: a whole afternoon of Rock-it Ball! The afternoon started with lots of games to practise the skills they would need in the game. Exceptionally quick to learn, the children were soon learning Rock-it-ball rules so that they could play the game successfully and safely. Split into four teams, the children then enjoyed a mini tournament with most games very close. In fact, many were draws! In addition, while two teams played, the other players took it in turns to score, time keep, officiate and keep the balls in play, showing super leadership skills.
Mrs Salmon praised the class for being so fantastic! Not only did they learn how to play the game so quickly and demonstrate excellent skills, they also led each other brilliantly, organised the games themselves and behaved perfectly. A credit to themselves and their school. Well done Roman Way!