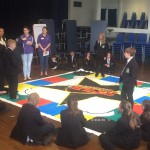 Thoughts of going to University don't just start at college as Harrow Way Community School is demonstrating with some recent collaborations with The University of Winchester. All year groups, from Year 7 to 11, are taking part in activities designed to provide information that generates enthusiasm and understanding of higher education.
Recently Year 10 students visited the university to take part in a number of interactive workshop looking at higher education and the potential benefits of going to university. Students were encouraged to consider future career choices and whether these would or wouldn't require a degree and the skills they would need in the workplace. Important information regarding finance and financial support were also explored.
Assistant Headteacher Graeme Fluellen said: "The students of Harrow Way are ambitious and for some students, many of these ambitions can be realised through higher education which is why we are collaborating with the University of Winchester. We want our students to aim high and achieve the very best they can and the planning for this starts here, at Harrow Way."
Year 7's also took part in an interactive activity designed to help them build a positive attitude to higher education from a young age. In teams on a giant playing board the Star Student Game quizzes students about education, social life and finance. As students battle it out to become the ultimate Star Student, they learn many useful facts and figures about the realities of life at University.
Graeme Fleullen concludes: "University is not necessarily right for every child or every career choice but it is important, particularly for those students whose family do not have a history of attending university, to be able to consider the options available to them. We will continue working with the University of Winchester as we explore these opportunities with all our year groups here at the school."