Students from Harrow Way were treated to a top-flight netball match at the University of Bath this week to see locals Team Bath take on Surrey Storm. With both teams in the top three of the national league, it was always going to be a close match but Surrey Storm led from the front and by the end of the second quarter had a 12 point lead over Bath. The remainder of the game saw Surrey maintain their lead and they never really looked back, eventually winning by 10 points.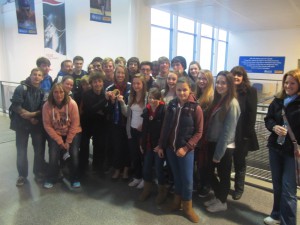 The basis for the trip was to allow students of all ages to experience netball being played at the top end and the quality of netball from both teams was simply staggering. A number of the our Year 11 GCSE PE students also attended in order to gain a more useful insight in to the game of netball, something they will have to brush-up on in preparation for their final written exam in May.
Upon arrival at the University, we bumped in to no other than Lizzy Yarnold, British skeleton Olympic Champion from the Sochi Winter Olympics. She spoke briefly with the students before posing for a 'team photograph' with her gold medal!
What an evening!