Poland Trip 2013 – Friday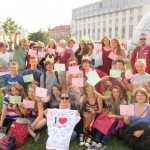 Today students spent the day at Auschwitz concentration camp, where they had a full guided tour. The day was quite emotional and thought provoking for the students and staff but they behaved fantastically and were a credit to the school.
Currently there is a big storm, but everyone is looking forward to an evening meal at Hard Rock Café later.