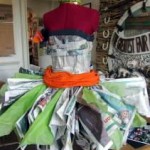 An exhibition is being held at Andover Museum on Saturday 12th November at Andover Museum, collaborating of dresses and designs made from recycled materials.
The collection will be created by a series of workshops held at Harrow Way on the 18th October and 1st November 3.15 – 5.30pm and at Andover Museum on 25th October, 10.00am – 4.00pm.
Please click here for more information or contact our Community Office on 01264 364900.