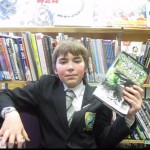 The Reading Club members met recently to film reviews of their favourite books. Please click the link below to view some of their work. All books featured are available to borrow from the School Library.
If you enjoy reading and would like to become a member of the Reading Club, we meet every Friday lunchtime in the library. Everybody's welcome!
Five excellent reasons why you should join Harrow Way Reading Club.
You don't know what to read next.
You used to read lots, but don't anymore.
You want to understand, appreciate and talk about the books you read.
You want to discover new books and writers.
You've read all of the vampire type books!
Click here to view a video of a member of the reading club.