Further Information and Support
We have collected together a list of useful websites for external agencies. This will enable parents and carers to find further information and advice on a number of issues affecting young people. There are also links to parenting groups, support networks and therapy services.
If you can't find any support that you are looking for, please contact the school here and we'll try and provide information internally or point you in the direction of an external agency who can help.
For advice and support on Internet Safety and Anti-Bullying click here.
| Category | Organisation | Link |
| --- | --- | --- |
| Support for parents / carers of children and young people with disabilities or additional needs | Hampshire Parent Carer Network | |
| Advice for parents and carers of disabled children | Parentvoice | |
| Free impartial information for parents/carers with children with special educational needs and disabilities (SEND) | Support4SEND | |
| Autism Support | The National Autistic Society | |
| Support for parents and sufferers of Dyspraxia | Dyspraxia Foundation | |
| Support to help a bereaved child or young person. | Cruse Bereavement Care | |
| Advice for parents, carers dealing with hyperactivity and ADHD | The Hyperactive Children's Support Group | |
| Support for parents and students with dyslexia | Hampshire Dyslexia Association | |
| Child and adolescent mental health services | Youngminds | |
| Support for children and young people who have a caring responsibility. | Andover Young Carers | |
---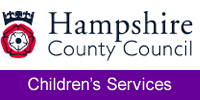 Further information can be found at Hampshire Children's Services
here.