Prospectus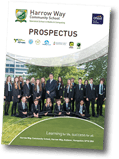 Prospectus September 2018
Click here to view our Prospectus.
UPDATED INSERTS
Current Board of Governors – September 2018
General Information
Admission Policy – 2019-2020
Examination Results – Summer 2018
School Uniform
Special Educational Needs Statement of Policy
A tour of the school can be arranged by appointment, please Contact Us.
Open Evening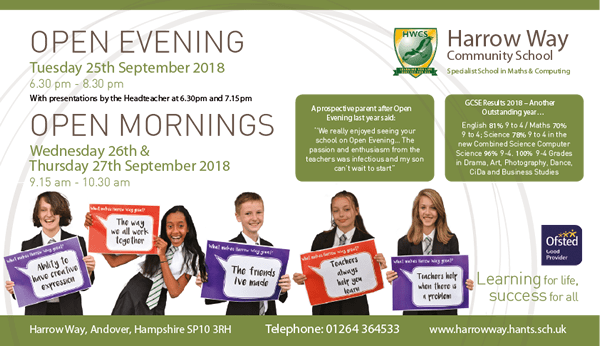 We would like to invite our prospective students and their families to our Open Evening on the 25th September, 6.30pm – 8.30pm. There will be a short presentation by the Headteacher at 6.30pm, repeated at 7.15pm.
If you can't make our Open Evening or Mornings, you can contact the school on 01264 364533 for more information and arrange a tour.
If you would like to see the school during a working day, then please come to our Open Mornings on the 26th and 27th September 9.15am – 10.30am.
| | |
| --- | --- |
| Video Snapshot of Harrow Way | Video Prospectus |
| | |
FURTHER INFORMATION
Harrow Way Activity Survey – The data and information in this booklet has been compiled from the Client Caseload Information System (CCIS) database used by the Youth Support Service (YSS) in Hampshire, Isle of Wight, Portsmouth and Southampton. The content is generated by a Program designed to identify the 'destinations', as at 1st November 2012, of pupils who completed Year 11 in the academic year 2011/12.