Prospectus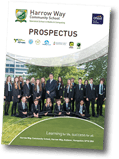 Prospectus September 2019
Click here to view our Prospectus.
UPDATED INSERTS
Current Board of Governors – September 2019
General Information
Admission Policy – 2020-2021
Examination Results – Summer 2019
School Uniform
A tour of the school can be arranged by appointment, please Contact Us.
Open Mornings and Evening
Our next Open event will be:
We would like to invite our prospective students and their families to our Year 4/5 Open Mornings 9th & 10th July 2020, from 9.15am – 10.30am.
If you can't make our Open Evening or Mornings, you can contact the school on 01264 364533 for more information and arrange a tour.
School Admissions for Armed Forces Families
A video funded by Forces Connect South East, and produced by Hampshire County Council, provides details on the steps that Forces families need to take to secure a school place for their child, with key application dates.
---
FURTHER INFORMATION
Harrow Way Activity Survey – The data and information in this booklet has been compiled from the Client Caseload Information System (CCIS) database used by the Youth Support Service (YSS) in Hampshire, Isle of Wight, Portsmouth and Southampton. The content is generated by a Program designed to identify the 'destinations', as at 1st November 2012, of pupils who completed Year 11 in the academic year 2011/12.