Harrow Way Performing Arts Department present Disney's Aladdin.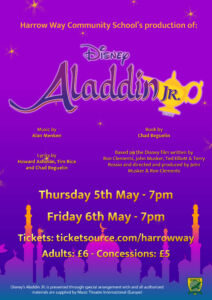 When the first lockdown struck we were just two weeks away from performing our school musical – Disney's Aladdin. At the time we promised our students that, no matter what, we would eventually perform the show. We have had to defer it again for a few more weeks, due to staff and student absence. However, at the start of May you will be able to come and see us keep that promise as we open our doors for our first school musical in two years – Disney's Aladdin!
While many of the cast have changed since our first attempt back in 2020 (the actor playing the Genie then is now 18!) the energy and enthusiasm is still the same. We would love you to come and join us for some good old Disney fun and all your favourite songs.
Tickets will cost £5 for children and £6 for adults.
Public performances:
Thursday 5th May – 7pm
Friday 6th May – 7pm
Purchase tickets here: ticketsource.co.uk/harrowway
Disney's Aladdin JR. is presented through special arrangement with and all authorized materials are supplied by Music Theatre International (Europe)