There are some FREE FAMILY ACTIVITIES taking place in Andover T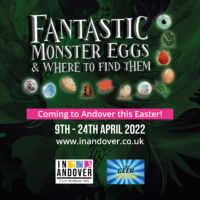 own Centre over the Easter Holidays.
9th – 24th April
FANTASTIC MONSTER EGGS & WHERE TO FIND THEM – VIRTUAL ESCAPE ROOM
We're teaming up with The Geek Emporium to bring you a location-based 'Escape Room Go!' game. This is tailored towards older children/teens and college students to give them something to do over the holidays.
Saturday 16th April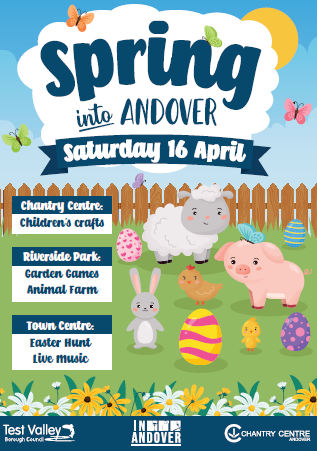 AT THE TIME RING ON THE HIGH STREET AND AT RIVERSIDE PARK
EASTER TRAIL – Pick up an entry form on the day (from the InAndover Gazebo in the Time Ring) and find the clues and claim your sweet prize when you return your completed form! There will be live music and entertainment around the town. The Easter Trail will be open between 10am – 3pm.
CHANTRY CENTRE – Spring Themed Craft workshops, 10am – 3pm.
RIVERSIDE PARK – Mobile Farm – Animal lovers of all ages will enjoy the mobile farm, which will be located in the new Riverside Park, by Town Mills. Visitors can meet some friendly farm animals. 11am – 2pm.
Outdoor games – Also in the park, a selection of outdoor games will be available for families and friends to play and test their competitive skills. Games will available. 10am – 3pm.
More information on events can be found on the InAndover website.