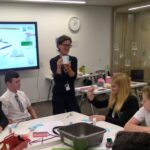 A trip to the Design Museum has given Harrow Way Year 9 students a head start in the Design Ventura competition. Working with industry experts the Design and Technology students explored a number of ideas during a workshop aimed at developing their creative thinking and problem-solving skills. The sessions act as a pre-competition platform, intended to help inform and inspire students before they formally submit their product designs later in the year, with the winner going on to be manufactured and sold in the Design Museum shop.
Commenting on the value of attending the Design Ventura workshop teacher Mr Larcombe said: "The students got so much out of the trip. It was a great opportunity to engage with creative and exciting activities. They were aided by professional designers and engineers who both guided them and explained the real-world relevance of the tasks they were undertaking. I'm proud to say that our students impressed the experts with the range and quality of their ideas which they produced in a very short period of time. Equally beneficial was the chance to spend time with these designers and engineers who are all successfully pursuing a career in this industry which helped put much of what we learn back at Harrow Way into a professional, real-life context."
Design Ventura is aimed at students in years 9, 10 and 11 who are challenged to design a new product for the Design Museum shop. Students, working in teams, are asked to consider the whole process of design, from initial concept to manufacturing and budgets to marketing and branding. The Harrow Way team will need to further workup their ideas before a judging panel at the School selects the strongest design for their submission to the competition.
The top ten state school teams are then invited to a pitching event at the Design Museum with the winning team going on to work with a professional designer to develop their idea and see it on sale the Design Museum Shop.