Year 5 and 6 Cluster Indoor Athletics Competition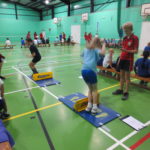 Harrow Way hosted the first Primary Cluster event of the year and what a lovely afternoon was had by all. We started with all the competitors participating in the eight field events that included indoor javelin, long jump, chest throws and the performances were fantastic. The afternoon then moved onto the rebound board running events that culminated in the Team Relay event that is always the most cherished and loudest win of the event!
The eventual winners were Portway Junior School and congratulations to them! All the children worked really hard throughout the afternoon and were a credit to their schools. Effort and enjoyment of sport was the key and a big thank you to all competitors, teachers and the wonderful Sports Leaders from Harrow Way, without whom the event could not run.