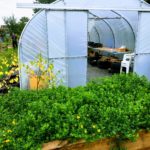 WILDFLOWERS – Students and the local community have helped to grow lots of wild flowers over the last few months, if anyone would like to now plant some in their gardens (for a small contribution), please contact ATU here. Planting can be done now or in March. We have 2000 plants!
Andover Trees United have lots of events coming up in the run up to Christmas, see below for more information:
Saturday 26th October – Lantern making workshop for December procession in Harmony Woods at The Lights.
29th & 30th October – Half term Nature Activities at Harmony Woods
Saturday 9th November – Hedgerow Wreaths and Tree Dressings workshop at Harmony Woods.
Saturday 16th November – Community Tree Planting at Harmony Woods.
Saturday 23rd November – Quiz Night – raising funds for the woodland classroom at Rockhouse, 7.15pm.
Saturday 7th December – Winter Celebration – lantern procession & tree dressing with music, mince pies and mulled wine at Harmony Woods, 5pm – 7pm.