Year 9 Art Gallery Visit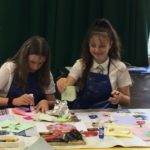 Year 9 Art students looking for inspiration for their 'Circles and Rings' project were given a creative treat with a visit to Southampton City Art Gallery. With renowned artists Yinka Shonibare curating the Criminal Ornamentation exhibition, students were guided by gallery staff as they explored the works of a number of celebrated artists.
A mixed media workshop had the students getting hands-on as they tried paper collage and mono-printing influenced by work from the exhibition.
Mrs Collins, Curriculum Leader for Art and Photography elaborates: "Inspiration can come from many different sources and this trip to the gallery in Southampton demonstrated to our students how other artists can take a theme and translate this creatively into a piece of art. The starting point for our students was circles and rings but they realised, following the trip, that this does not need to be a literal interpretation and looking at their sketchbooks I am delighted to see that they have been creatively inspired."