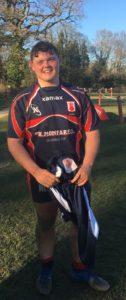 Harrow Way's star rugby player Mikey Summerfield is making a bid for an international place with the Irish national rugby team. The Year 11 student attended three countrywide trials to make the final squad for the Irish Exiles, a team which specifically identifies and develops potential Irish players in England, Scotland and Wales. Mikey will tour with the exiles, playing three matches for the team during August.
Mikey has been an avid and committed rugby player since he was eight years old training every week with Andover Rugby Club. As well as initially playing for Harrow Way he was selected by professional club London Irish to join their Developing Player Programme (DPP) when he was in Year 8. Selected from across Berkshire, Hampshire and Middlesex Mikey trained twice a week with the club progressing from their bronze scheme through to the Gold AASE scheme – Achieving Academic and Sporting Excellence, which is targeted at talented 16 to 18 year old students who have the aspirations and potential to play at the elite end of the game.
Following an incredible 2018-2019 season, during which he made his debut for London Irish against Wasps U18, Mikey was also named as the U16 Hampshire Player of the Year and won the Hampshire School RFU U16 Robbie Keast Bowl for his success on the field and his sportsmanship.
Commenting on Mikey's success Headteacher Michael Serridge said: We are hugely proud of Mikey's success. He has demonstrated with his sheer determination, what hard work and commitment can achieve. I have little doubt that he will go on to achieve great things in the rugby world and I look forward to following his progress in the professional rugby world.
Having just finished his GCSE exams at Harrow Way Mikey has chosen to attend internationally renowned Hartpury University and College where he will study the Level 3 Extended Diploma Sport (Performance and Excellence) Rugby. He has also been selected as an England Academy Player which will give extra training with the England coaches.