Year 11's Final Day 2019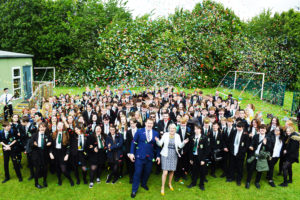 Today we held our last assembly with our outgoing year 11 students after their Physics examination. Mr Reed, Year Leader for Year 11, ran the assembly and looked back over the past 5 years the students have been at Harrow Way. Goodbye messages from their tutors and other members of staff were played, while students enjoyed a Harrow Way cup-cake.
After the Year 11 students made their way to the field, via a tunnel of applauding year 7 students, to have their final year group confetti celebration photo. Images can be viewed here.