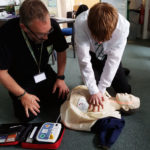 Harrow Way Community School has launched an exciting new initiative to deliver certificated first aid training to all Key Stage 4 students. 'Be Ready', part of the school's ambitious Careers Education Programme, has been designed to give students highly valued additional skills and qualifications.
As a registered centre Harrow Way's Site and Facilities Manager Steve Badby is fully qualified to deliver the training which also includes all staff first aiders. Commenting on the project he said: "We are currently trialling 'Be Ready' with small groups of students. Once they have completed their six hours of training, which we are delivering around the students' normal timetable, they will be awarded the Level 3 Emergency First Aid at Work qualification – a great addition to their CVs!"
The QNUK qualification which has been developed to meet the first aid training requirements outlined by the Health and Safety Executive (HSE) includes: defibrillator use, unconscious casuality management, resuscitation, choking, shock, wounds and bleeding, minor burns and seizures.
Harrow Way ultimately intends to extend the training beyond their own students and staff to include other local schools, charities, community groups and companies which support the school community. The plan is to not only offer first aid but other 'work ready' courses such as fire safety.