Year 7 Rugby – Excellent Second Half Come Back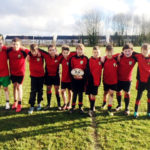 The Year 7 Rugby Team hosted Wellington Academy in the District Rugby Competition on Wednesday 13th March. At half time they trailed 5-25 with the visitors dominating open play. The defence was restructured and from this the team built in confidence playing some good open running Rugby.
Albie Head commanded the team from Scrum Half, with all the players rising to the occasion. Joby Hayes and Jordan Davies tackled superbly with Archie Anderson running in 5 tries! Final Score: Harrow Way 25, Wellington 35.