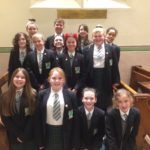 St Mary's Church is used the sound of voices raised in song but on Thursday night 13 Harrow Way students nearly raised the roof as they sung their hearts out, competing to be crowned Andover Young Musicians of the Year.
Competing in the Popular Music category, Harrow Way's Show Choir treated the audience to a high energy rendition of the main theme from this year's school musical, Little Shop of Horrors. The students' display of excellent technique and tight harmonies earned the them the 2nd highest scores of the night from the judges, an wonderful achievement in only their second year in the competition.
Harrow Way student Lani Clayton not only competed with the outstanding Show Choir but also performed solo, giving the judges a beautiful rendition of Read All About It by Emeli Sandé. Lani, accompanying herself on the piano despite having only begun playing 2 months ago, showed fantastic poise and confidence as she brought a smile to the face of everyone listening.
Thanks must go to Harrow Way's Music teacher, Emily Massiah, who has worked so hard with both the Show Choir and Lani to bring out such strong performances. Mrs Massiah said "Other than their great performance, I am most proud of the way our students supported and applauded the competitors from other schools. They showed the genuine generosity of spirit that comes from being part of a real Community school."