Andover SEND Support Workshop – 5 March 2019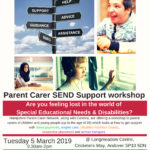 Hampshire Parent Carer Network (HPCN) are holding a support day for parent carers on Tuesday 5th March at The Long Meadow Centre, Cricketer's Way, Andover SP10 5DN. They have SEND specialists CEREBRA coming to share information on what services are in the local area and how parent carers can access them on behalf of their children.
They are charging a small fee, to show commitment to the event, of £2.00 via Eventbrite, which is fully refundable up to 7 days before the event. Please see poster for more details. For more information on HPCN please click here.