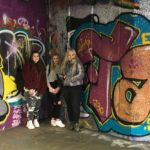 London provided the perfect backdrop for Harrow Way Year 11 Art students looking for inspiration for their GCSE exam preparations. Exploring the sights and architecture walking the South Bank to the Tate Modern, over the Millennium Bridge to St Pauls, the students investigated the themes of 'Dwellings', 'Boxes', 'Signs', 'Mirrors', and 'Birds'.
Explaining why she chose London as the venue for the important Art trip, Head of Department Chrissy Collins said: "The people, the buildings, the everyday in London is rich in inspiration for these young artists. This is a city famous for its architecture, its history, its fashion and vibrancy all of which provide an exciting dimension to the exam themes. I'm impressed at the creative interpretation, with students who explored the bird theme looking at the kinetic artwork such as Alexander Calder's mobile for flight and movement and roller-skating angels in the street entertainment along the South Bank. I'm really looking forward to seeing how these ideas and sketches translate themselves to the students' final submissions."
Now back in the Harrow Way Art studios, students will have eight weeks to produce a whole project. Exploring ideas in a range of media, they are currently experimenting with composition, colour and viewpoint in preparation for their final piece which they will have to create during a 10-hour exam, done over two days in March.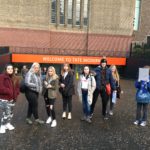 Harrow Way is renowned for its Creative Arts provision. In August the Department celebrated a flawless 100% grades 9 to 4 pass rate for GCSE and V Cert courses and Art and Photography also secured impressive high grade passes with 37% grades 9 to 7 (equivalent to A-A**).
Ms Collins concludes: "It's always wonderful to take our students somewhere new and encourage them to widen their horizons and be ambitious for their futures."