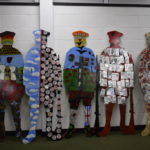 Harrow Way Art Department have been busy over the last couple of weeks decorating wooden cut-outs of WW1 soldiers for the Andover 215 Project. The project is in remembrance of the 215 men from Andover who lost their lives in the First World War. The pieces will be displayed in Vigo Recreational Ground on Saturday 10th November between midday and 2.00pm. These figures will then be the centrepiece of an emotional art piece in the evening between 5pm and 7pm.
Nine of our ten soldiers were decorated by Year 7 students and one by Year 9 students. Year 7 & 8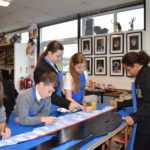 students have been busy creating poppies during art lessons, which are on display in the English Block Foyer.
Other work has been on display at Winchester Cathedral and Andover Iron Museum. Images from all works can be viewed here.