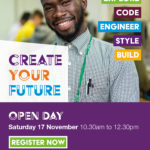 Basingstoke College of Technology (BCoT) are holding an Open Day on Saturday 17 November, 10.30am to 12.30pm. To register and more information visit their website: bcot.ac.uk/open
During this event, you will be able to view our range of industry-standard facilities, ask their experienced tutors any questions you may have and talk to current students about what life is really like at BCoT.
From Animal Management to Travel and Tourism, Engineering to Hair and Beauty, there will be loads of exciting, interactive activities taking place across the College that you can get involved with! Employers will be on hand to chat about the careers that students can progress to once they finish their studies, and the Apprenticeships team will be available to answer all your questions.