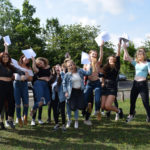 Although this year's GCSE exams were predicted to be the toughest yet, following government reforms which revamped assessment and grading, Harrow Way students are smiling widely this morning. In English an impressive 81% of students achieved a GCSE grade 9 to 4 (equivalent to the former A* to C) with 24% achieving an incredible grade 9 to 7 (equivalent to an A**/A*/A). Maths also fared exceedingly well with 70% achieving grades 9 to 4 and 72% of students are celebrating their success with a grade 9 to 4 in the new Combined Science GCSE. Overall 62% of students secured grades 9 to 4 in the much coveted Maths and English. Harrow Way's results in these core subjects are well above the national average.
Headteacher Michael Serridge explains the significance of the changes to the reformed GCSEs: "Changes made to the curriculum and assessment of GCSEs has certainly made these qualifications much tougher. Students' success or otherwise is now solely based on Year 11 exams so against this backdrop of huge pressure I am immensely proud of our students who have all done so well. Key to our success is the single-minded emphasis we place on outstanding teaching and learning which means our students will always be taught to the very highest of standards."
Alongside the excellent overall pass rate the school's focus on outstanding teaching and learning is also paying dividends on the high grade passes too. Michael Serridge continues: "We have seen a significant increase in the number of students achieving the very highest grades, which in the former system equates to A**/A*/A. Not only have they passed these challenging exams but they have also achieved the best grades possible."
With Performing and Creative Arts a hugely important part of the curriculum at Harrow Way and a subject area the school has long been renowned for, there was much delight with a flawless 100% grades 9 to 4 pass rate for the GCSE, BTECs and V Cert courses in Dance, Drama, Art and Photography. These subjects also secured high grade passes with 43% grades 9 to 7 (A**/A*/A) in Dance, 46% grades 9 to 7 in Drama, 37% grades 9 to 7 in Art and 43% grade 9 to 7 in Photography. Music students also did brilliantly with 87% achieving grade 9 to 4.
Harrow Way's expertise as a Computing at School lead school was reflected in their Computer Science results with 96% achieving grades 9 to 4 and 100% for students studying the Certificate in Digital Applications.
Over in Design Technology, students and staff are celebrating their 81% grades 9 to 4 pass rate achieved in the Product Design GCSE.
A number of other curriculum areas, still on the former grading system, also delivered superb performances including Business Studies with 100% achieving A* to C, 25% of which were A*/A and Catering with 97% A* to C.
There were some stand-out performances with a number of students celebrating a huge haul of high grade passes including Christie Hatchett with five grade 9s, two grade 8s and two A*s. Oliver Smith results included five grade 9s and three A*/As. Thomas West, Sarah Zieleniak, Jessica Brown, Jack Donner, Jake Grimison, Amy Knight and Lauren Baugh also performed incredibly with a whole raft of high grade passes.
Harrow Way will be hosting an Open Evening on Tuesday 25 September 2018 from 6.30pm for prospective families wishing to learn more about the school. Open Mornings will also be held on Wednesday 26 September and Thursday 27 September 2018, 9.15am to 10.30am.